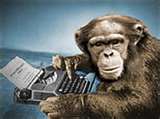 It's really nice to have support when I write. My entire body supports me. My spine keeps me upright in my chair. My butt anchors me there (sometimes too long), and of course my hands and eyes connect me to my computer via the keyboard, mouse, and monitor. Obviously, I could not write without the aid of my body, but sometimes it takes that support too far and ends up causing me trouble with typos. How so?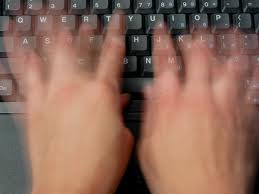 First it's my fingers. They're very helpful. I should provide a little backstory and say that I learned to touch type in high school — home row, QWERTY, and all that. I never have to look at the keyboard to type, just keep my eyes trained on the screen and go. Because of that, I type fast, and my fingers know whole words after so much repetition. I rarely have to think about typing H-E-A-D, I just think about
head
and my fingers do the rest.
Unless they don't. Sometimes my fingers think they know what word I want, and they type heat instead. Or hear. And the trouble with this is that spell-checker won't catch it. It's a good word. It's just not the right word.
Then, to compound the problem, my brain gets into the act. My brain is also very helpful. It knows what words I want to write. After all, they start there, right? So as I'm reading over what I've just written, my brain scans the words via my eyes and says, "Yep, looks good. A-Okay here."
Except it's not. I've just written, "She blushed from her neck to the top of her heat." Lovely. Paints a picture, doesn't it? And these parts of me, my fingers and my brain and my eyes, are all just glowing with giddy pleasure because they've helped me write my magnum opus. Or maybe that's
right
my magnum opus. At any rate, while I appreciate the effort and the thought, it's just not enough. This is why I have to call in more eyes.
Fresh eyes that don't have expectations
based on what's in my head. Fresh eyes that will actually see what's on the paper instead of thinking they already know what should be there.
All I can say is, thank god for
beta readers
and
editors
. When my own body conspires willingly against me, I need all the outside help I can get.
We've had lots of articles on this topic at Indies Unlimited. The Evil Mastermind wrote about the dreaded
Typopotamus
. Our Fearless Leader lamented about
letting a book sit
. Even world-renowned reviewer Mr. BigAl wrote about
why proofreading is important
. No matter which won of us ewe listen too, getting another set of eyes on your work is paramount.